From the time I was a toddler my family made sure that I knew I could do– and be– anything I wanted. That's a lot of pressure for a little kid.
So I wowed them by getting into the prestigious Bronx High School of Science, and then deflated their expectations by refusing to go. I showed them!
I left college because my advisor told me that English majors had to go on to become English teachers. I didn't want to be a teacher; I wanted to be a writer. Although I had never trusted anyone in authority, I did believe that idiot advisor.
So I forgot about being a writer, and instead, I wrote; funny little newsletters for my friends, missives to my family, long letters to pen-pals far far away.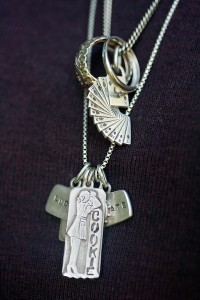 And then I got lucky. I met editor Annie Flanders, who was just starting the original DETAILS Magazine. She either saw potential in me or felt sorry for the miserable state of my life, I'll never be sure which. But she took me under her wing and had me start writing for DETAILS. Annie's only mandate was that you were passionate about what you wrote. Which was perfect, because I had passion in abundance.
I started at DETAILS as their book reviewer. I spent hours on my couch, reading literary memoirs and scary mysteries, short stories and deep works of fiction. I went to sold-out readings and book signings, big book conventions and tiny underground poetry slams. I got invited to The Miami Book Fair, where I met Jane Smiley, TC Boyle, Richard Ford, Ray Carver and other writers who were so inspiring to me. My column, Book 'Em, was a complete joy to write each month.
Then I wrote the first Knifestyles of the Rich and Famous story for DETAILS. It was a first-person column about plastic surgery. My story was about my own breast reduction (Hallelujah!). This was in the mid-80′s, when plastic surgery was still in the closet. I went on to meet women and men who had every single part of themselves transformed under the knife. These people told me their plastic surgery successes and failures. Knifestyles was both uplifting (no pun intended) and very frightening to write, because when plastic surgery goes wrong, it goes horribly wrong.
My first "celebrity interview" was with Aidan Quinn. Aidan was so funny and charming, and we went on to become good friends. I started doing more entertainment pieces. I wrote a cover story about Elizabeth Taylor and went to her house for a bar-b-que; interviewed Nic Roeg, whose films (Don't Look Now, Performance, and Bad Timing) I so admired; got a tour of the newly opened Tribeca Film Center with a very chatty Robert De Niro.
In 1990, I started writing for other magazines. I traveled around the world– to Paris to interview Roman Polanski and Juliette Binoche, to Berlin to spend a week with Anthony Hopkins, to Rome for an afternoon with Susan Sarandon. I flew back and forth from New York to Los Angeles, and met actors at every stage of their careers– I interviewed Leonardo DiCaprio when he was just 19, went club-hopping with Mike Tyson before he was crowned heavyweight champ of the world, went to Washington DC to interview Republican strategist Lee Atwater, who had put partisan politics aside for a brief second so he could put out a CD of classic blues songs. (Thinking we would have nothing in common, I was completely bowled over by Atwater's sense of humor and encyclopedic knowledge of music. When he had trouble forming words during our interview and was rushed to the hospital, he invited me to come along. That day he was diagnosed with his life-threatening brain tumor. Our friendship continued until his death).
I helped zip Jennifer Lopez into her Escada wedding dress for a story for In Style magazine. For a Cosmo cover, I saw Pamela Anderson's breasts (okay, who hasn't?). In the course of my stories, I've picked through Elle MacPherson's closet; shared lunch with Johnny Depp, Lindsay Lohan, and Katie Couric; walked the snowy streets of Manhattan with Angelina Jolie, when absolutely no one knew who she was.
I've danced with Christopher Walken, gone CD shopping with Jeff Bridges, and out-run the paparazzi with Sean Penn. I took Sherilyn Fenn to see a storefront psychic during her time on Twin Peaks, and interviewed Mariah Carey the night before her nervous breakdown. I swear, I had nothing to do with it.
And never, not for one second, have I stopped pinching myself and reminding myself how very lucky this girl from the Bronx has been. This is the point most people thank god. Me? I'll just thank Annie Flanders.
My work has appeared in magazines as diverse as the original DETAILS, The New Yorker, Fashions of the New York Times, Japanese Vogue and German Men's Vogue, The Goodguys Gazette, Redbook, Cosmopolitan, and Movieline's Hollywood Life.
I have been an on-air contributor to VH1′s Sexiest Movie Moments, Entertainment Tonight, and Inside Edition.
Since the inception of the Woodstock Film Festival in 2000, I have been the moderator of the Actor's Dialogue. Among the people who have participated in these always sold-out events are Aidan Quinn, Stanley Tucci, Steve Buscemi, Liev Schreiber, Vincent D'onofrio, Olympia Dukakis, David Strathairn, Marcia Gaye Hardin, and Edie Falco. Order your tickets early!
I am a winner of a NYFFA Award in creative nonfiction, a fellow at the Squaw Valley Community of Writers, was named the 1997 Philip Morris Fellow at The MacDowell Colony, and taught a memoir class as the 2003 Artist-in-Residence at SUNY Ulster. Not bad for a college dropout.
I am now the Executive Director of Woodstock Writers. Besides offering year-round readings in association with The Golden Notebook, we also produce the Woodstock Writers Festival, a yearly get-together of writers and readers, which features workshops, panels, readings, fetes and more. Over the past 4 years we have hosted such notable writers as Susan Orlean, Ruth Reichl, Dani Shapiro, Marion Winik, Colm Toibin, Augusten Burroughs, Ann Hood, Philippe Petit, Cheryl Strayed, and many, many others. Our intensive Woodstock Writers Workshops, with nationally recognized writers, are always sold out. We're already planning for 2014 (April 3-6).