Books
Hats & Eyeglasses: A Memoir   Here's how lucky I am:  I got addicted to internet poker, lost a fortune, but then sold a book about it. And my family still loved me after they read it. Read more.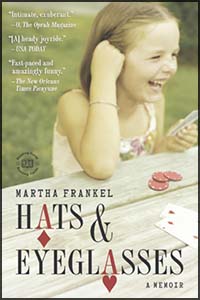 Knitting Yarns: Writers on Knitting One of my idols, the writer Ann Hood, asked me if I had anything I wanted to say about knitting for an anthology she was putting together. I almost wept with joy: there was a story I have been wanting to write for years. Very humbled to be in the book with some of the best writers of our time. Read more.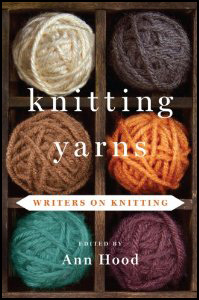 The Joyous Lake This is a chapter of a book I hope to write someday, a book about the 70's in Woodstock, when sex, drugs and rock 'n roll were on the menu every night, and The Joyous Lake was the hottest club in town. I was the cashier. Buy a copy on PayPal. Only ten bucks.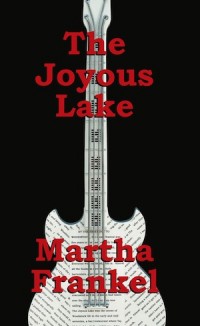 Brazilian Sexy I know more about hair removal than the barber of Seville. Especially if it's down there. Read more.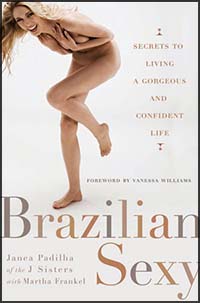 New Writings
My latest piece for Hudson Valley Magazine. Loving the accompanying art! A Meat-Lover Turns Vegan — and Doesn't Hate It (The Final Word Opinion Column). Published January 22, 2014. Read the article.
Family Photos: What Kind of Person Am I? I narrated family photos for my partially blind mother, and saw more through my mom's eyes. Baltimore Fishbowl. Published: January 15, 2014. Read the article.
Other Things I've Written
Meetings With Remarkable Celebrities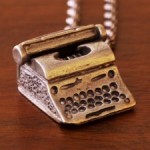 I've done hundreds of interviews. Sometimes I fall in love with someone because their work is so terrific, or because they're funny when I hadn't expected that, or because they are so intimate that I want to protect them. Sometimes I fall out of love, too, but that doesn't happen as often.
J.J. Abrams: The man who would go on to make LOST— before anyone knew who he was.
Kevin Bacon: 
Mr. Bacon truly is the center of the universe.
Juliette Binoche: 
She made me lunch— in Paris!
Jeff Bridges: 
 If I'm ever marooned on a desert island, please let Mr. Bridges be there with me.
Johnny Depp: 
 Everything about Depp is completely magical.
Leonardo DiCaprio: 
 I get paid for this? Pinch me now.
Andy Garcia: 
 Absolutely the coolest (and sexiest) conservative in the world.
Steve Guttenberg: 
 The luckiest man in Hollywood.
Matt LeBlanc: 
 The sweetest guy I ever interviewed. He only wanted to give me some of the free Ray-Bans they sent as soon as he could afford to buy them himself.
Spike Lee: 
 The other side of Spike Lee.
Other Other Things I've Written
I've written articles for magazines and newspapers on subjects as diverse as who has Hollywood cooties to why I was an ungrateful boob to my mother on mother's day. (Plus some book reviews). That I get paid for my opinions still makes me giddy.
Of Mothers and Daughters: A Mother's Day gift to mine.
Dressing for winter turns out to be life changing.
Hollywood Cooties: Who has them, who's immune.
Labor Daze: 
How childbirth is portrayed onscreen.
RIP, Ms. Taylor Rest in peace, Elizabeth Taylor. There will never be another one like you.
More Cool Shit
Sometimes I get to act out what I've written, or tell it to a radio audience. Is that the most amazing thing ever? Yes, I do believe it is.
I was asked to do a TedX talk. Does it get better than that?
I entered one of TMI's story slams. The subject was Pretending. I won!
A piece I did with TMI about Hurricane Irene. The worst time of my life.
WAMC Listener Essay: Mother's Day by Martha Frankel. Aired May 7, 2010.
More More Cool Shit
Since its inception in 2000, I have been the host of the Actors Dialogue at the Woodstock Film Festival. From Edie Falco and Aidan Quinn to Olympia Dukakis, Marcia Gaye Hardin and Steve Buscemi, I've gotten a real glimpse into the actor's life.
Andy Garcia and Stephen Dorff
Woodstock Film Festival, Actors Dialogue, 2013